Richard Ranashinha de Vulpian (リチャード・ラナシンハ・ドヴルピアン, Richādo Ranashinha Dovurupian?) is the titular character and a protagonist of The Case Files of Jeweler Richard series. He is the owner of Jewelry Étranger. His legal name is Richard Claremont.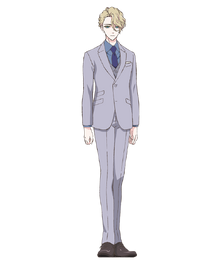 He has light honey blond colored, medium-length wavy hair. It is styled with the fringe parted and swept over to his left where it still keeps Richard's icy blue eyes visible.
He tends to wear formal clothing including a light pastel lavender-colored suit over a blueish collared shirt underneath with a purple tie.
Richard tends to keep to himself for the most part. He is soft-spoken and very formal. As his relationship with Seigi develops, his stoic facade begins to fade as he opens up more, revealing a kind and caring person. Though he remains stoic, he has a love for sweet things.
A skilled jeweler with customers all over the world. Richard is described as an exquisite beauty that transcends gender, and also as living jewels. However, it seems as though he dislikes being complimented for his looks and often finds it uncomfortable whenever Seigi would praise his beauty.
Before he became a Jewelry appraiser, it was revealed in episode 6 of the anime that he once worked as a jewelry scammer under the false name of Edward Baxter, using his looks and conversation skills to sell fake stones.
He is multilingual.
Multilingual: Richard is able to fluently converse in multiple languages, including Japanese.
He is rescued by this university student from a group of drunkards one night. Together they begin to solve mysteries surrounding the jewels they come across as well as their owners.
Shaul found RIchard when he was suspected for scamming a german couple with a blue zircon gem. Shaul Ranashinha reprimanded him as a Jeweler for selling something a customer does not want under the pretence that it is something else, and tells Richard that he has a proposal for him. Richard regards him as his master.
Richard is a quarter of Sri Lankan from his grandmother. [1]
Based on the novel, Richard's paternal grandma, Leah, was a white woman who was born in Sri Lanka.
Richard has an English father and a French mother. De Vulpian is Richard's mom's last name.
Richard can speak English, Japanese, French, Spanish, Mandarin, Cantonese, Tamil, Hindi, Thai, Tagalog, Italian, An Unnamed African Language, Sinhala, German, Arabic and probably others. [2]
Richard loves eating sweets, especially pudding.
The name 'Ranashinha' in Richard's name is the surname of his master, Shaul Ranashinha.
His family calls him 'Ricky'.
Community content is available under
CC-BY-SA
unless otherwise noted.